Analysis. Insight. Judgement.
Save Time | Save Money | Mitigate Risk | In-Context Advice | Skills Development | Personal Touch
IBRS has extensive experience in assisting organisations both develop and troubleshoot their projects.
IBRS has developed a specialist project advisory and assurance service which is built on a commitment to supporting organisations to deliver successful programs and projects, and achieve value from investments.
Our assurance services are delivered by highly skilled and experienced advisors who each have more than 20 years' experience in public and private enterprises. They specialise in establishing and maintaining effective governance, high quality program and project outcomes, and capability development of project teams and stakeholders.
We are close at hand. IBRS has a national team located in Queensland, NSW, Victoria, Tasmania, and the ACT. 
IBRS is committed to a supportive, collaborative approach which focuses on positive engagements which deliver effective and pragmatic outcomes.
During IBRS assurance engagements, IBRS will provide:
Confirmation of the assurance plan and timetable with reporting requirements as agreed.
Assurance reports or health check reports with observations, delivery confidence and priority ratings.
Presentation of review findings to program board, including progress of previous recommendations, current review observations and recommendations, and feedback on changes and improvements to program elements between assurance reviews.  
Attendance at program board meetings as required and supporting activities as agreed.
Systematic and Proven Assurance Programs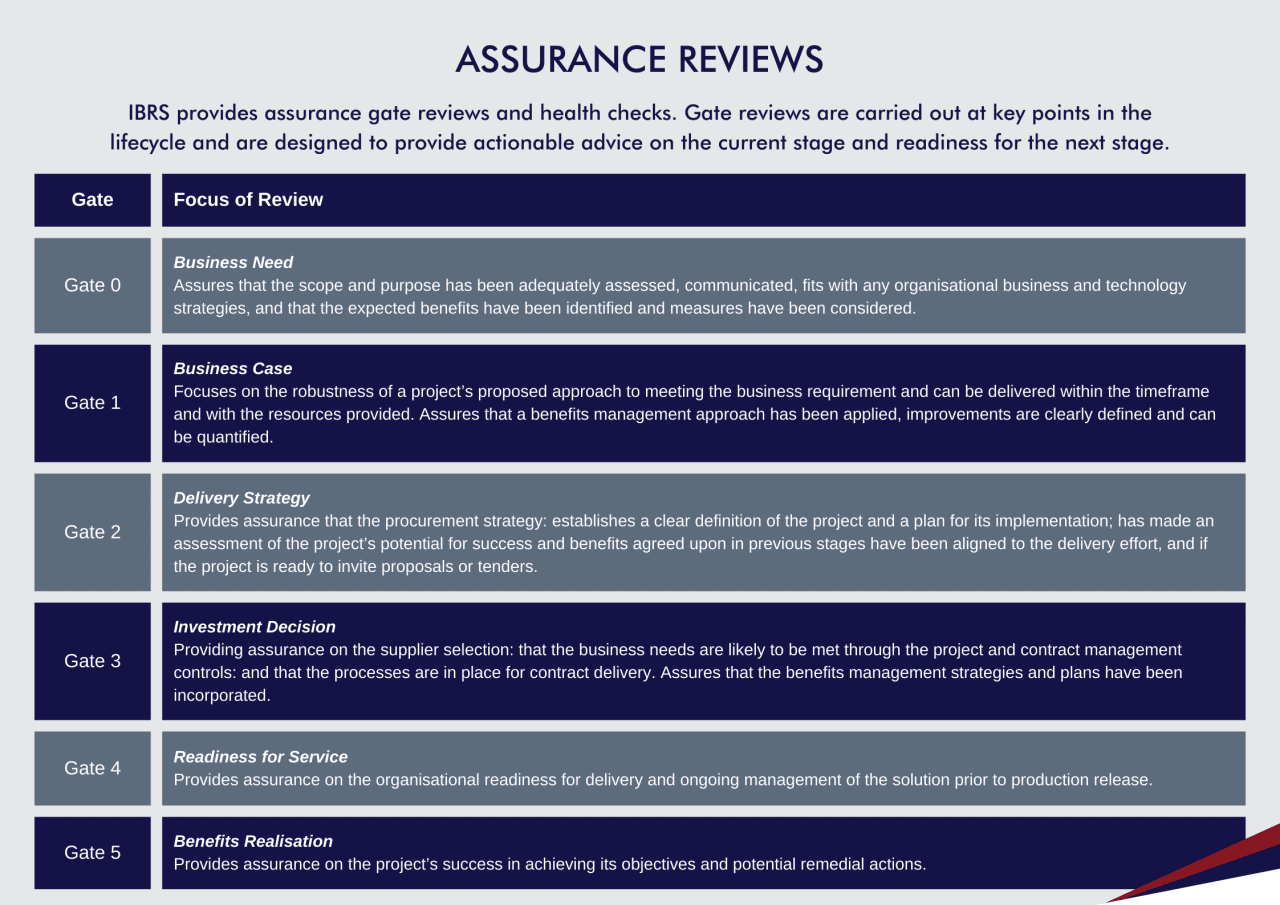 What our customers say about us...
What impressed me from the start was the responsiveness of the team - every request is actioned immediately. The IBRS team reviewed a draft Cloud and related services agreement and provided valuable feedback. Late one Friday afternoon I had an urgent follow up question, contacted the office and the advisor called me within 15 minutes.
IBRS's expert advisors have time and again proven invaluable in informing our decisions and strategies across ICT and supporting us when we have a critical deliverable. The breadth and depth of expertise that IBRS possesses means that they are invariably the first call we make when exploring, delivering and securing our technology platform.
I have utilised IBRS advisory services for nearly 10 years now because of the range of independent and insightful research they undertake and which has real relevance to organisations operating in the Australian market. No matter what my enquiry has been about, I have always received timely and high quality advice I can trust.