Analysis. Insight. Judgement.
Save Time | Save Money | Mitigate Risk | In-Context Advice | Skills Development | Personal Touch
What is IBRS Research & Advisory?
IBRS provides organisations ongoing pragmatic advice backed by our database of advisory papers, frameworks, methodologies, presentation kits and ebooks.
IBRS advisors are all practitioners that help you and your team make better-informed decisions for business technology investments so you never waste money or time.
IBRS research is geared towards in-context advice in line with individual clients' requirements ensuring you get the outcome you need.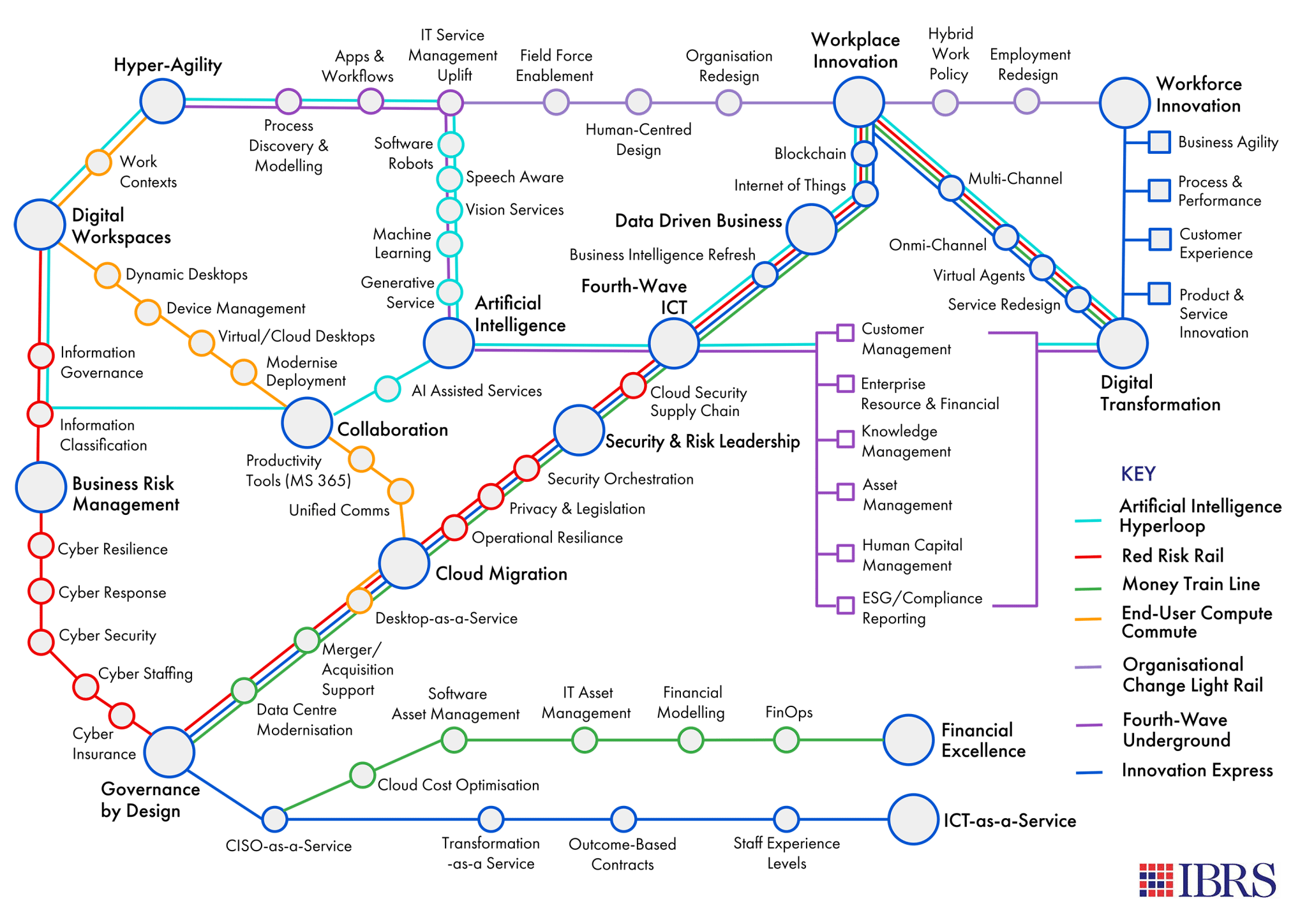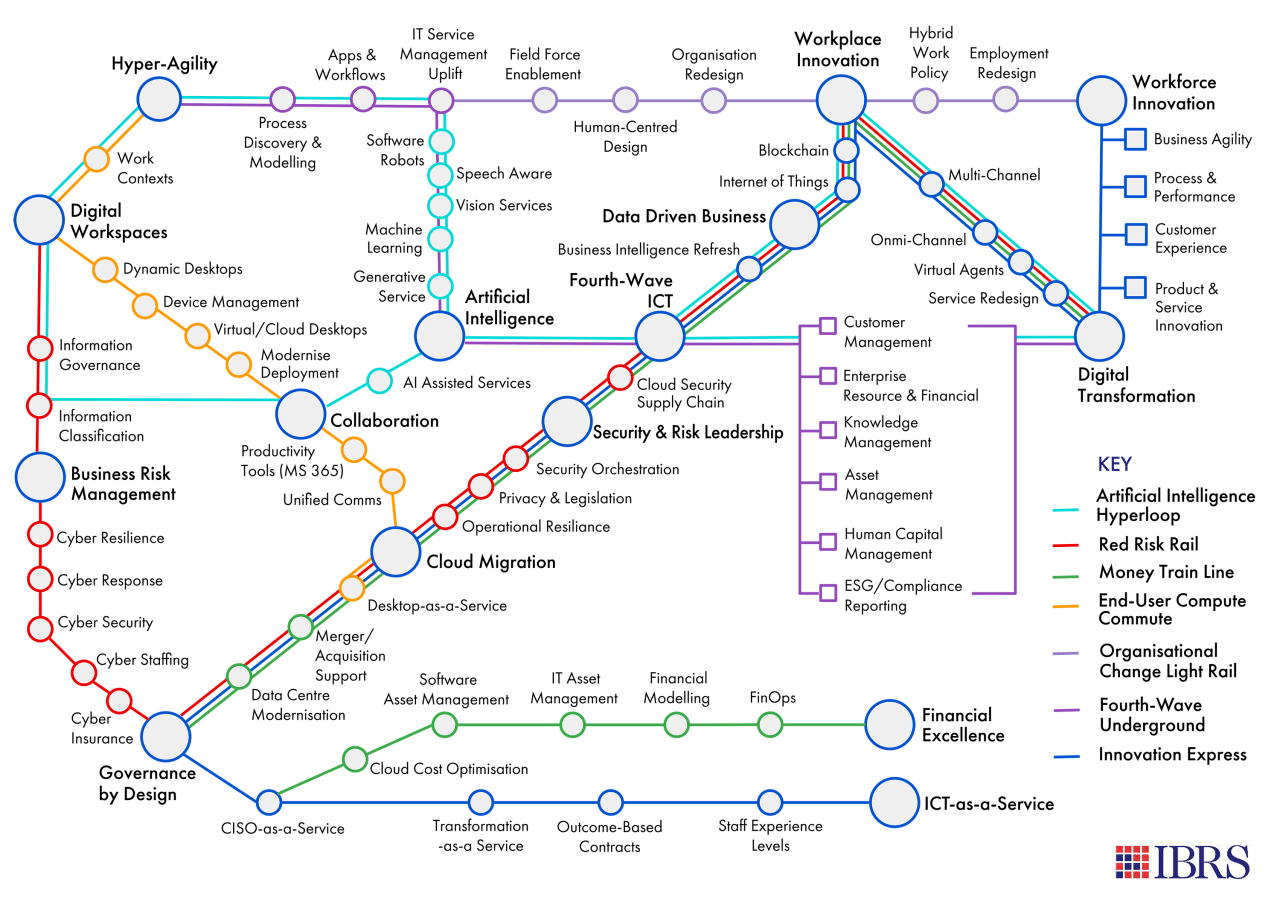 What Does a Subscription Give You?
Onboarding that focuses on your strategic direction, priorities and roadmap
Advisors dedicated to individual programs of work offering continuity of advice and understanding of client needs
Whiteboard sessions facilitated by IBRS advisors to solve problems and agree on outcomes
Unlimited advisor inquiry
Unlimited document reviews
Strategies
Business cases
Architectures
Vendor proposals
Presentations
RFPs
Position descriptions
Unlimited organisation wide access to our database of content
Monthly interactive webinars
Dedicated client relationship manager
VendorIQ – vendor analysis
Solution Market Scans
IBRSiQ – customer case studies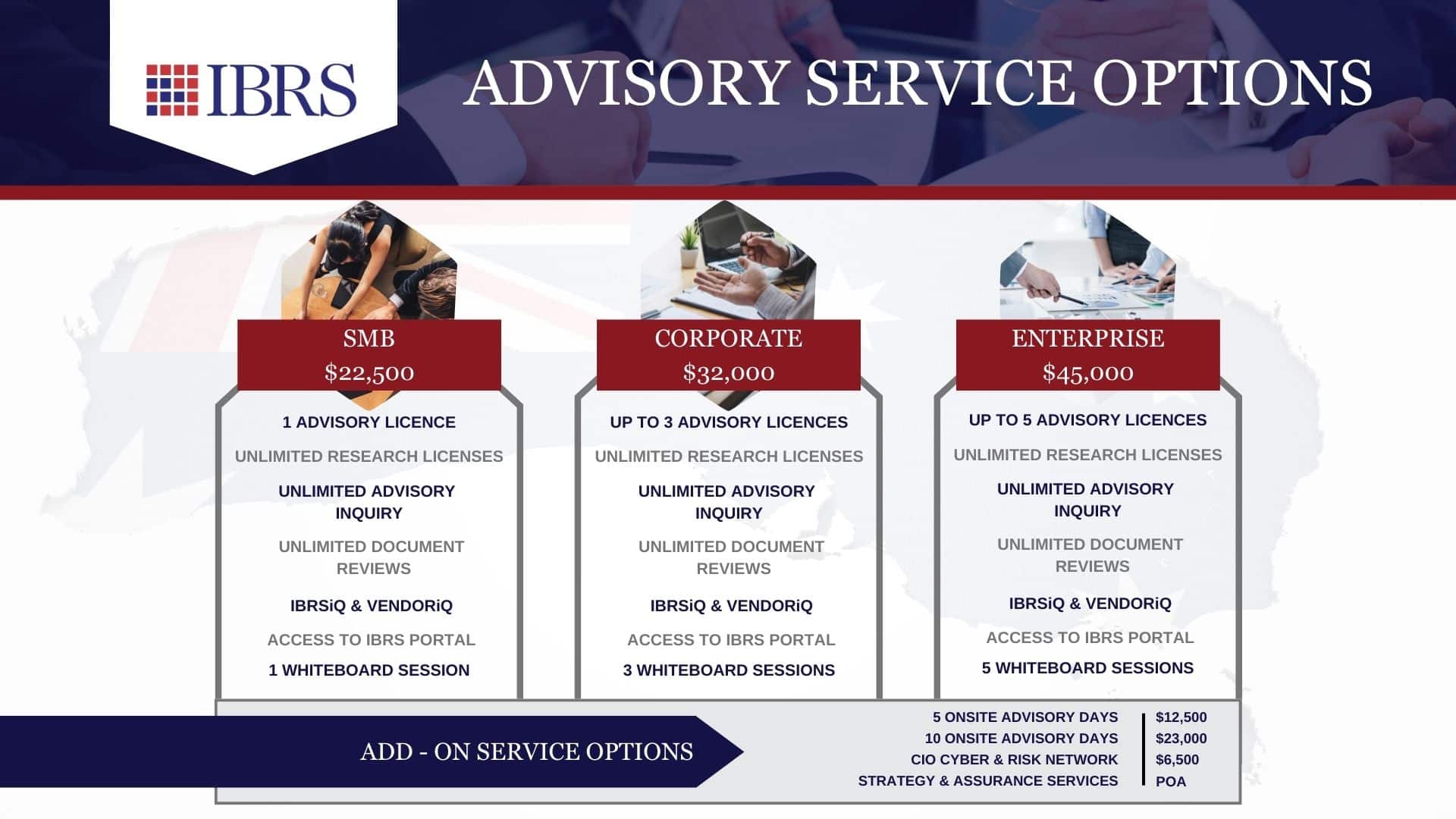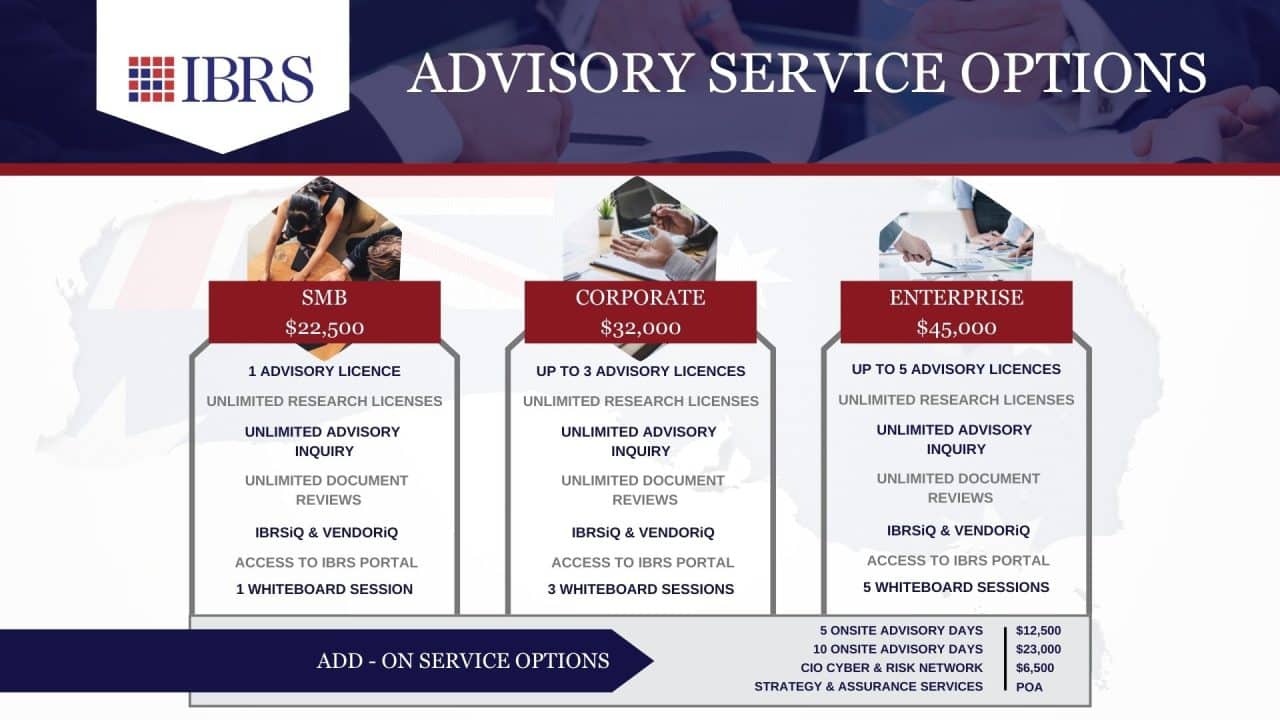 Australian context: IBRS is focused on helping Australian organisations understand how global trends and vendors affect their ICT and digital strategies and roadmaps.
Vendor independent: IBRS works for the end user, less than 5% of IBRS's revenue comes from vendors.
Capability uplift: IBRS works with you, supporting skills and capability uplift.
Practitioners: IBRS advisors have been in your shoes, ensuring advice is well-proven and practical.
Better Practices: Our advice is continually updated to reflect changes in technology and business needs.
Well informed: IBRS advisors are regularly briefed by global vendors, channel partners and Australian vendors who aren't on the radar of global advisory firms.
Data-driven: IBRS conducts extensive research, interviews and surveys annually. All advice is backed by evidence.
Peer communities: IBRS regularly introduces clients to one another.
The IBRS experience is designed for clients needing a down to earth and practical research and advisory service. It's not just about thought leadership – it is advice that is relevant and implementable.
What our customers say about us...
Thank you for the board presentation. Feedback from the board was positive, and the Chair summarised it as: "Thanks for arranging the board presentation – it landed well, and I think has given good food for thought in terms of our tech strategy and way forward". There was more, including having regular sessions with the Board regarding what we are doing, our thinking around technology, and what I will be doing. We can talk more as we start to develop our next three year strategic plan.
The conversation with Joe reinforced some of my current thinking around the issues to be addressed regarding enterprise search capabilities and priorities. Due to the complexities of enterprise information and data management, there are many strategies and options which could be implemented. I enjoy the free ranging conversations with Joe as they assist with identifying any opportunities or risks which may not have been considered.
I have utilised IBRS advisory services for nearly 10 years now because of the range of independent and insightful research they undertake and which has real relevance to organisations operating in the Australian market. No matter what my enquiry has been about, I have always received timely and high quality advice I can trust.
As per the nature of the preliminary inquiry, Andrew was engaged and helpful. Material provided was relevant and will be used to inform and guide progress. Thanks.
Being our real first engagement with IBRS, David took a lot of time to understand the business, our problems, and strategies, and nothing was a hassle; David brought this experience to the table, focused a lot on his experience/case studies which exactly what we wanted to hear, table this with a methodology and experience, it hit the mark. David has a nice demeanour and can bring a conversation to light with his wealth of knowledge. Thank you